I have got to tell you about the two brushes I absolutely CANNOT live without. They are both from A design and my foundation routine has changed for the better in so many ways since I got these. I did write about them earlier, almost 6 months back but after having used them every single day since then, I decided they needed a special mention as my most favorite brushes - EVA ! They are the Pointed Foundation Kabuki and the Flat Top Foundation Brush from A Design.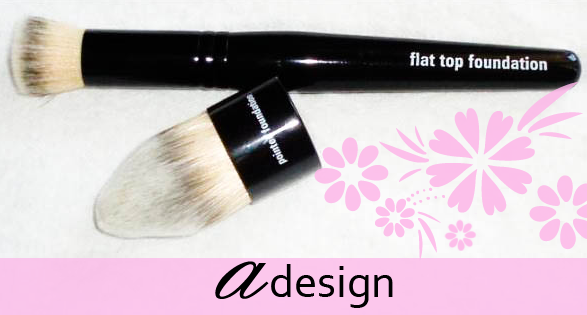 Both these brushes come with super soft, non irritating hair and a sleek black design. Having tried several brushes in the past in all price ranges, I feel like I've hit jackpot with these ones. I'm most surprised about that fact that these brushes haven't aged one bit, in the months that I've had them ! They look and feel the same as they did on the first day, I laid my hands on them. I sure do want to know what their anti aging secret is...if only these could talk, I could reverse my gene effects...sigh.

Pointed Foundation Kabuki Brush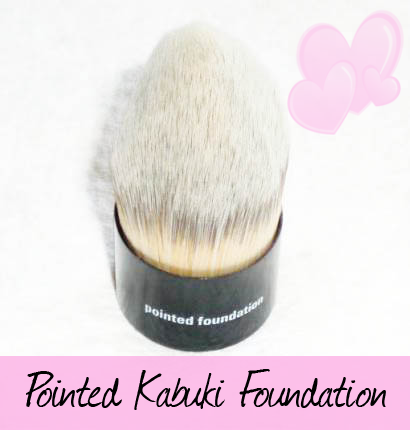 The unique design of this brush allows professional application in half the time. Smoothly covers large surface areas while achieving detailed results. Use with cream foundations to blend around the eyes, nose and hairline. Also, pair with your favorite facial masks or moisturizer for a fast, even application
After having used this, I was left wondering how I ever considered using a flat brush for applying foundation. All I do now is dot the foundation on my face and swirl the kabuki all over. They reach into all kinda crevices and spread the foundation to an almost air brush finish. It also keeps me from applying too much product on my face and even if I do , it gets blended to a decent finish. I don't like using it for masks per se but for foundation, I cant do without this brush.
Flat Top Foundation Brush
The flat surface of this brush will gently apply lightweight powder based foundations and pigment based products. Begin application in the center of your face and work product in using a soft circular motion.
PERFECT for applying powder foundations and for translucent powder. No fluffy powder brush comes anywhere close to the finish that this brush brings. It drives me nuts when I misplace my flat top foundation brush. That irritation of not finding it is enough to pressurizes me to keep into keeping it in the right drawer after every use. The powder is evenly distributed on the flat op brush and the brush in turn distributes it very evenly on my face. Of course if you have used a big fluffy brush for powder all your life, you might find it a
lil
tricky to use a smaller, comparatively sturdier brush. I always hated the big brushes because they were too soft and most often I ended with a lot of fall outs.
If you are looking for brushes I strongly recommend you to take a look at these.Read more
here
Love,
Indian Girl
PS : I just realized the Flat Top Brush is on sale for $15 !! That's a 50 % discount !